3D analysis software for scientific and industrial data. Different application areas: Materials Science, Quality Assurance in Industrial Environments, Electronics, Digital Rock Analysis etc. It enables users to perform interactive visualization and computation on 3D data sets. The Avizo interface is modelled on the visual programming. Users manipulate data and module components, organized in an interactive graph representation (called Pool), or in a Tree view. Data and modules can be interactively connected together, and controlled with several parameters, creating a visual processing network whose output is displayed in a 3D viewer. With this interface, complex data can be interactively explored and analyzed by applying a controlled sequence of computation and display processes resulting in a meaningful visual representation and associated derived data.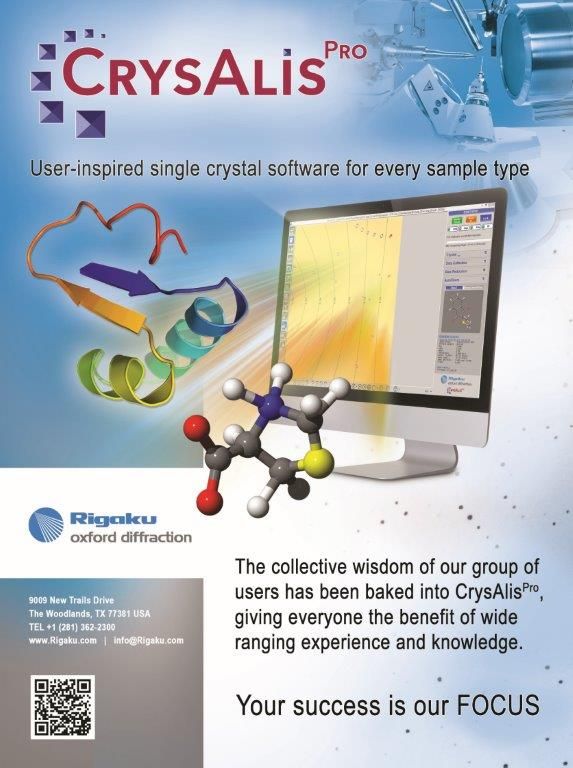 Data collection and data processing software for small molecule and protein crystallography. Main features: automatic crystal screening, data collection and strategy modules. It provides the user with information regarding the unit cell, intensity estimation by resolution range and suggested frame exposure times for the full data collection.
Computational tool for solid state physics and chemistry. The CRYSTAL package performs ab initio calculations of the ground state energy, energy gradient, electronic wave function and properties of periodic systems. Hartree-Fock or Kohn- Sham Hamiltonians (adopting an Exchange-Correlation potential following the DFT postulates of ) can be used. Systems periodic in 0 (molecules, 0D), 1 (polymers, 1D), 2 (slabs, 2D), and 3 dimensions (crystals, 3D) are treated on an equal footing. In each case the fundamental approximation made is the expansion of the single particle wave functions ('Crystalline Orbital', CO) as a linear combination of Bloch functions (BF) defined in terms of local functions, i.e. Atomic Orbitals.

The Cambridge Structural Database (CSD) is both a repository and a resource for the three-dimensional structural data of molecules generally containing at least carbon and hydrogen, comprising a wide range of organic, metal-organic and organometallic molecules. The specific entries are complementary to the other crystallographic databases such as the PDB, ICSD and PDF. The data, typically obtained by X-ray crystallography and less frequently by neutron diffraction, and submitted by crystallographers and chemists from around the world, are freely accessible (as deposited by authors) on the Internet via the CSD's parent organization's website (CCDC). ConQuest is the primary program for searching and retrieving information from the CSD.
Data analysis of EXAFS spectra using the fast spherical wave method. It provides an integrated environment for the analysis of EXAFS spectra while delivering a platform for the fast spherical wave method. The current version is based on this method for single scattering, but uses the method of Lee and Pendry (1975) for the exact polarisation dependent theory. Multiple scattering has options to use several methods. It allows fitting of both background-subtracted, and normalised total absorbance spectra. In the latter case the program calculates the atomic contribution of the spectrum (whole-spectrum fitting). The purpose of the program is to find a structural model of a material which agrees with the available XAFS spectra. This program (without GUI) was formerly called EXCURVE and is the one installed at the ESRF
FLUKA is a fully integrated particle physics MonteCarlo simulation package from CERN and INFN. It has many applications in high energy experimental physics and engineering, shielding, detector and telescope design, cosmic ray studies, dosimetry, medical physics and radio-biology. It is used for radiation shielding simulations in the safety group.
GdfidL computes electromagnetic Fields in 3D-Structures using parallel or scalar Computer Systems. GdfidL computes Resonant Fields in lossfree or lossy Structures and Time dependent Fields in lossfree or lossy Structures. The Fields may be excited by Port Modes or relativistic Line Charges. The Postprocessor computes from these Fields eg. Scattering Parameters, Wake Potentials, Q-Values and Shunt Impedances.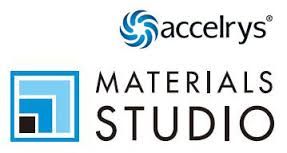 Materials Studio is a modeling and simulation environment designed to allow to predict and understand the relationships of a material's atomic and molecular structure with its properties and behavior. With it one can construct, manipulate and view models of molecules, crystalline materials, surfaces, polymers, and mesoscale structures. Materials Studio includes quantum, atomistic (or "classical"), mesoscale, and statistical methods that enable one to evaluate materials at various particle sizes and time scales. It also includes tools for evaluating crystal structure and crystal growth.
Combined EXAFS and XRPD data analysis with EXAFS full multiple scattering calculations and whole-spectrum fitting. A code designed to maximise the usefulness of the EXAFS technique in the investigation of crystalline materials which powder diffraction (PD) methods could not uniquely resolve. The program retains many of the features of EXCURVE (s. the related web pages) and provides most of the PD features of the program GSAS. For EXAFS this includes full multiple scattering calculations and whole-spectrum fitting, but at present it cannot deal with EXAFS polarisation dependence. PD calculations currently exclude calculation of the thermal diffuse scattering contribution, which is included in the background.
Profile and structure analysis software for powder and single crystal data XRD. Profile and structure analysis by integrating a large wealth of profile fitting techniques as well as related applications. Single Line Fitting Indexing (LSI and LP-Search methods) Whole Powder Pattern Decomposition (Pawley and Le Bail methods) Ab-initio structure determination in direct space from powder and single crystal data Rietveld structure refinement Quantitative Rietveld analysis
Commercial software product for multivariate data analysis, used for calibration of multivariate data which is often in the application of analytical data such as near infrared spectroscopy and Raman spectroscopy, and development of predictive models for use in spectroscopic analysis of materials. Unscrambler X was an early adaptation of the use of partial least squares (PLS). Other techniques supported include principal component analysis (PCA), 3-way PLS, multivariate curve resolution, design of experiments, supervised classification, unsupervised classification and cluster analysis.

VASP is an ab initio simulation package based on DFT. It is used for atomic scale materials modelling, e.g. electronic structure calculations and quantum-mechanical molecular dynamics from first principles. VASP computes an approximate solution to the many-body Schrödinger equation, either within density functional theory (DFT), solving the Kohn-Sham equations, or within the Hartree-Fock (HF) approximation, solving the Roothaan equations. Hybrid functionals that mix the Hartree-Fock approach with DFT are implemented as well. Furthermore, Green's functions methods (GW quasiparticles, and ACFDT-RPA) and many-body perturbation theory (2nd-order Møller-Plesset) are available. Central quantities, like the one-electron orbitals, the electronic charge density, and the local potential are expressed in plane wave basis sets. The interactions between the electrons and ions are described using norm-conserving or ultrasoft pseudopotentials, or the projector-augmented-wave method. To determine the electronic ground state, VASP makes use of efficient iterative matrix diagonalisation techniques, like the residual minimisation method with direct inversion of the iterative subspace (RMM-DIIS) or blocked Davidson algorithms. These are coupled to highly efficient Broyden and Pulay density mixing schemes to speed up the self-consistency cycle.
VGStudio MAX is a high-end software for the visualization and analysis of CT data in combination with the optional add-on modules 'Coordinate Measurement', 'Nominal/Actual Comparison', Porosity/Inclusion Analysis', 'Wall Thickness Analysis', 'Fiber Composite Material Analysis' and 'CAD Import (with PMI)',
The program package WIEN2k allows to perform electronic structure calculations of solids using density functional theory (DFT). It is based on the full-potential (linearized) augmented plane-wave ((L)APW) + local orbitals (lo) method, one among the most accurate schemes for band structure calculations. WIEN2k is an all-electron scheme including relativistic effects.